| | |
| --- | --- |
| Fees | |
Fees are set by the Headteacher in conjunction with the governing body.
We stopped admitting children under 2 from September 2013.
Some 2 year olds receive 15 hours of free childcare per week, i.e. 5 sessions, either mornings or afternoons. Eligibility for this is determined by the Pre-School Learning Alliance. More information is available from reception.
Fees for all age groups and all classes in our nursery including Little Ellies playscheme, which runs for most of the school holidays, are set out in the fees chart below.
All food must be paid for and nappies must be provided by the parent.
The cost of a school lunch increases by 5p annually from 1st April in line with Luton Borough Council.
We have not changed our fees for some time, but we have decided to put them up from July 2018 as per the link below.
From the term after a child is 3 years old they are entitled to 15 hours of free childcare per week, i.e. 5 sessions, either mornings or afternoons. Extra sessions are charged at the current rate.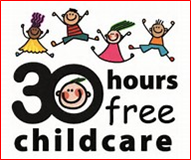 From September 2017 some children will be entitled to up to 30 hours of funded sessions. We offer 48 x 30 hour places in the nursery for 3 and 4 year olds. These are offered on a first come, first served basis. We have to limit our places due to the number of children we can accommodate at lunch time. This funding only applies to children the term after their third birthday.

You can check for eligibility and apply for the funding at www.childcarechoices.gov.uk
If you are eligible you will be given a reference number. You need to give this to the school office and then we verify your eligibility via Luton Borough Council.